Canadian CH, CFC CH, Australian Grand CH, RUBIS, GPC NSW CH
AKC CH Nellinda Hangzhou "Bronson"

Was only in the United States for a short time. (May - October 2009)
Only GP to win Reserve BIS in Australia
Multiple Best in Specialty Show Winner
#1 German Pinscher in Australia 2005, 2006, 2007 & 2010
#1 German Pinscher in Canada 2008*
#6 German Pinscher in US 2009 (in only seven shows) (Canine Chronicle All Breed Points)
Earned his Canadian championship at 6 1/2 years old
Earned his AKC title with a Best of Breed from the classes and a Working Group IV in June 2009!
The first US GP to get an AKC group placement from the classes and then he was the oldest GP to get a group placement at 7 1/2 years old.
Owned by Ravenred Kennels in Australia
THANK YOU DOREEN FOR THE OPPORTUNITY TO SHOW THIS AWESOME DOG!
We were honored to have him in our home for what seemd likw such a short time. While in the USA, he was able to sire some nice AKC Champions for us.
*Best Dog in Canada - All Breed Points Ranking System for 2008
---
Bronson in the United States (seven years old)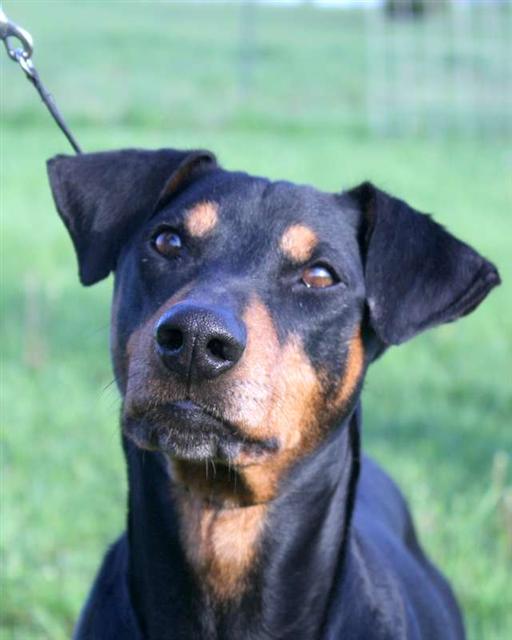 Bronson at 7 years old
---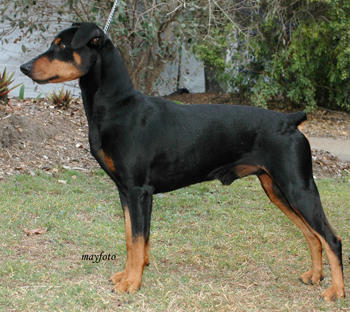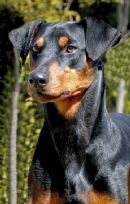 photo taken at 5 years old
Pedigree

Aust. Ch. NDL. Ch.

Haggith De La Barque De L'Esprit

HD: Free

Int. Ch. NDL. Ch.

Emir Gabber V.H. Shogunnaat

Falk V.D. Vogelweide

Bodo von der Vogelweide

Alke von der Vogelweide

Ger. Ch. Int. Ch. NDL. Ch. LUX. Ch.

Fallon Greca Queen of the Night

Greg vom Cronsbach

Carola von der Vogelweide

NDL. Ch.

Destine Den De La Barque De L'Esprit

Dorak V. Werner Junghof

Bernard vom Donnershof

Cindy von Werner Junghof

NDL. Ch.

Nikita V. Nihenhoven

Viking II von Werner Junghof

Jennefer von Werner Junghof

Aust. Ch.

Kaitler Ada V Hause Zemp (IID)

Champ V. Hause Zemp

Hiram De La Barque De L'Esprit

Emir Gabber van het Shogunnaat

Destine Den de la Barque de l'Esprit

Olli V. Nordkristall

Basko von Kuki

Kitti vom Nordkristall

Ani V. Hause Zemp

Jordan Dit Jason De La Capelliere

Don Diegue des Scalaires

Fleggy de Basmour

Ramona V. Hause Zemp

Don Dexter van het Shogunnaat

Bali vom Cronsbach