We are no longer breeding Miniature Pinschers.
However, we still have many friends involved in this breed.
Over the years, we desired to have elegant looking min pins that were sound moving, with hackney like action. We bred dogs only when we wanted something out of the litter, but always worked very hard to find the right homes for our puppies that we did not take to the show ring. We were selective of the dogs we breed and the people who got them. All pets were sold on limited registration and were spayed or neutered. We genuinely love this breed and wish only the best for it.
former Members of the Miniature Pinscher Club of America
Members of the Miniature Pinscher Club of Greater Los Angeles since 1984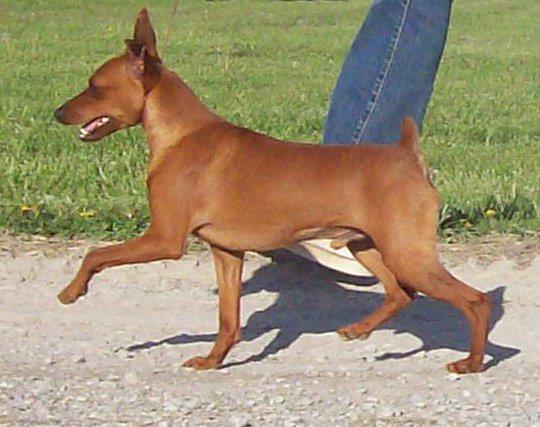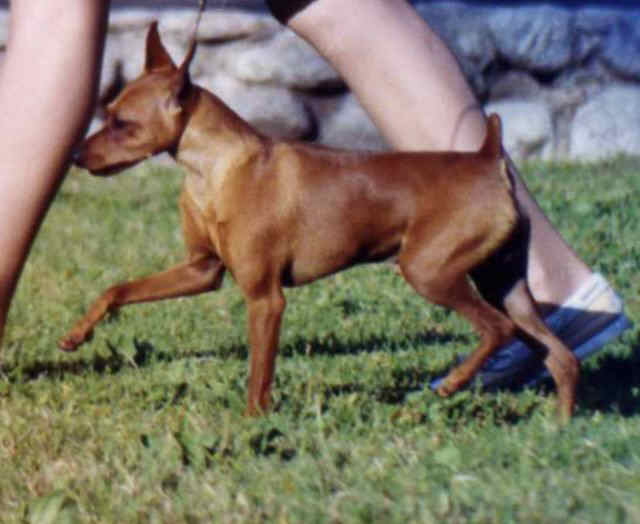 Ch Bluehens Stayin Alive of Ampns (2008) Toy Group/BISS Winner Ch March-On Make My Day
(Photo by Connie Wick 1991)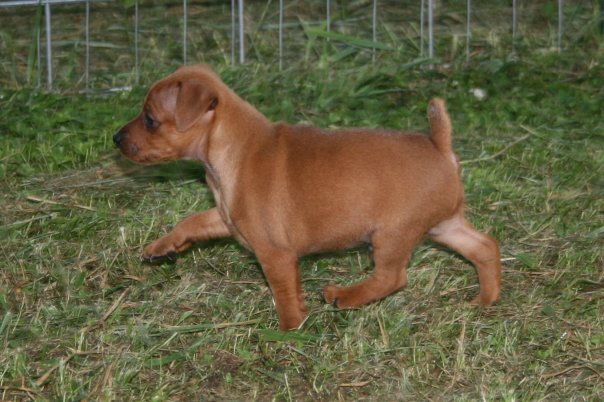 One of our five week old miniature pinscher puppies exhibiting his "Hackney Like" movement.
If they are built they will move right at any age. (photo by Connie Wick 2007)
The only Champion we bred after retuning to showing in 2005, finished his AKC championship going winners dog at the Minaiature Pinscher Club of Greater Los Angeles Specialty Show in 2009. We turned our full devotion to German Pinschers in 2008 our min pins at the time went back to Bluehen in Southern California.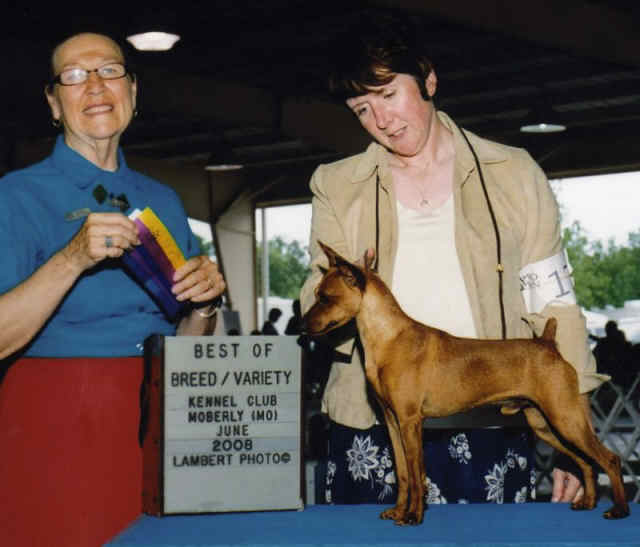 CH Bluehen's Stayin Alive of Ampns
Sired by Bluehen's Solo Fighter Bonelli
Out of Bluehen's Mad About You
Bred by Norma D. Cacka, Jessica and Amy Issleib
Co-Owned by Norma D. Cacka, Jessica and Amy Issleib